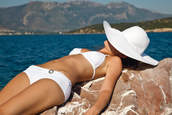 Electrolysis worthy of a Mediterranean
​ getaway...
Enhance and Enjoy with Electrolysis
Electrolysis is the ideal solution for permanent hair removal. While some individuals may feel uncomfortable speaking openly about "hair issues", you may be surprised to learn how many men and women face excessive hair due to heredity, medications, hormonal changes, temporary hair removal methods, and even stress. You are not alone!
​

Frequently Asked Electrolysis Questions
What to expect
During your initial consultation, Rosa will conduct a thorough health history assessment to fully understand any issues that could be related to excessive hair growth. Factors such as hair growth cycles, the quality and structure of the hair present, previous use of temporary hair removal methods, heredity, hormone function and stress all influence the customization of your treatment program. To schedule your personal consultation, call reception 973.467.9711
You are a good candidate for electrolysis if you can answer "yes" to any of the following questions:
Do you always feel self-conscious because of unwanted hair?
In social situations, are you able to react with others spontaneously?
Do you avoid being in the spotlight?

How long does each treatment take?
Treatment time can vary from 15 minutes to an hour or more, depending on previous hair removal methods, the area of the treatment and the amount of hair you wish to remove.
Is electrolysis painful?
There is a sensation associated with the treatment that may be interpreted as a slight warming effect. With today's technology, we'll maximize your comfort.
How much does electrolysis cost?
Electrolysis is considered a cost-effective method of hair removal. The overall cost depends on your individual treatment schedule. We'll discuss the optimum program to achieve the results you desire.
Can unwanted hair be removed from all body areas?
Yes, most body areas.

Common treatment areas include:
MEN WOMEN ADDITIONAL INFORMATION & LINKS
- Eyebrows - Upper lip Electrologists Association of New Jersey
- Hairline - Chin www.electrolysisnj.com
- Beard - Eyebrows The American Electrology Association
- Neck - Cheeks www.electrology.com
- Shoulders - Hairline Hair Facts: Hair Removal Resource
- Back - Earlobes www.hairfacts.com
- Chest - Abdomen The Polycystic Ovarian Syndrome Assoc (PCOS)
- Breasts www.pcosupport.org
- Bikini line